Welcome to our homes at Marazul Dive Resort... on the beautiful Caribbean island of Curaçao!
Set atop a plateau rising 30 feet above the sparkling blue sea, our prime selection of two-story townhomes is ideal for independent travelers who want to get away from the crowds - and be right at the water's edge.
Cooled by steady breezes and nestled among lush tropical plants and swaying palm trees, each fully-equipped, two-bath, one-bedroom home enjoys a stunning front-row location, so there's nothing between you and spectacular views reaching out to the horizon. Units have futons or sofabeds, as well - so some accommodate up to four guests.
Swim, snorkel and dive some of the Caribbean's most vibrant sites, including our house reef right out front and our famed local 'Alice in Wonderland' reef located just across the bay. Gently sloping stairs cut into the coral wall give you direct access to the water. Teeming with fish, turtles, and dolphins, it's a dream-come-true for sea-life lovers. That's when you're not simply relaxing by the pool in sunny 88° temps.
Marazul Dive Resort is a great place for beach hoppers, too. Five of the island's most beautiful of over 30 beaches are just minutes away.
The lanais out front are ideal for breakfasts and watching the iguana wake up on the sea wall. Many owners and guests enjoy dinners up on the balconies, watching the sky go from screaming orange and pink to a breathless darkness peppered with silver stars.
Keep to yourselves for a private getaway, or gather with your neighbors, drink in hand, to "perambulate along the perimeter" at sunset in hopes of catching the elusive, green flash - a Marazul tradition that's been the start of countless unforgettable evenings.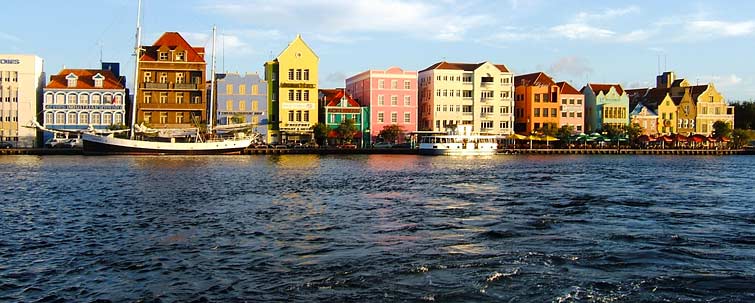 The entire island of Curaçao has so much to offer - flamingos, ostriches, windsurfing, etc. -- you'll want to rent a car to get out and explore. Must-sees include the capital city of Willemstad, a UNESCO World Heritage Site famed for its brightly painted 18th century mercantile buildings arrayed along the Handelskade; the Queen Emma floating pedestrian bridge that spans St. Anna Bay and links both sides of the town; an amazing maritime museum, restaurants, the oldest synagogue in the New World, the renowned Chobo Lobo distillery (producer of authentic Blue Curaçao Liqueur), plus local food and souvenir stalls, casinos, shopping, history - there truly is something for everyone!
There's an intoxicating Continental vibe to the island. Plus, Curaçao is the most racially and culturally diverse nation in the world - 56 nationalities among 160,000 residents! In addition to Dutch, Papiementu and Spanish, English is commonly spoken and the U.S. dollar is accepted everywhere.
We invite you to discover this amazing island from the comfort of our Marazul Dive Resort townhomes. We guarantee you'll return, again and again.