Choose Your Rental
Each townhome at Marazul Dive Resort is a true home away from home.
Though we share similar footprints - 1st floor open plan living area and kitchen w/separate bathroom, 2nd floor master w/ensuite bathroom and spacious balcony with glorious views - the personal touches of our owners make each unit wonderfully unique.
Everything has been chosen for your comfort and convenience: from the fully equipped kitchen and living room with extra sleeping accommodations for one or two extra guests, flat-screen TVs w/cable/Direct TV, WiFi, linens & towels, screened windows & doors, hot-water showers, air conditioners, ceiling fans and that all-important grill.
For detailed descriptions and availability of each townhome in our group, click on the pictures below. Then, choose the one that's right for you.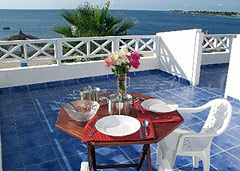 Spectacular Seafront Island Retreat - 1A & 1B
Just 30 feet from the ocean with an uninterrupted view on the deep blue and crystal clear water where you may spot dolphins jumping out of the sea.
We are residents of Curaçao and have lived and worked here for years.
We speak and write English, French, German, Spanish, Dutch, Papiamentu.
Sleeps 3 or 4
Click here for Rental Info & Availability →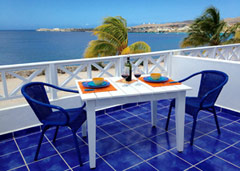 Treasure by the Sea - 10B
Make yourself at home in the tropical paradise that inspired the owners to write the island's current best-selling novel, "The Navigator's Treasure."
Recently upgraded townhome with expanded master bedroom suite
Just steps from the sea wall
Incredible 220° views
Sleeps 3
Click here for Rental Info & Availability →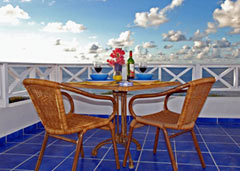 Ocean Front Oasis, Yours to Enjoy! - 10A
Slip into an island state of mind and enjoy the best Curaçao has to offer - topside or underwater - from our beautiful, front-row island home!
Ocean and pool are steps away
Newly renovated Master bedroom
Sleeps 3 adults or 2 adults & 2 children
Click here for Rental Info & Availability →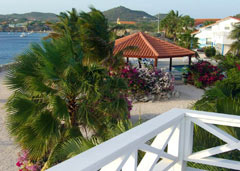 Oceanfront Island Gem - 7A & 8A
Perfect for celebrations, birthdays, anniversaries, & honeymoons
Hundreds of very satisfied couples and a long list of 5 star reviews
Personalized attention and communication from us to you
Furnished and equipped with all the amenities of home
Ideal location with unobstructed sea breezes and views of the Caribbean
Click here for Rental Info & Availability →