Seaside Bliss -
Bungalow 14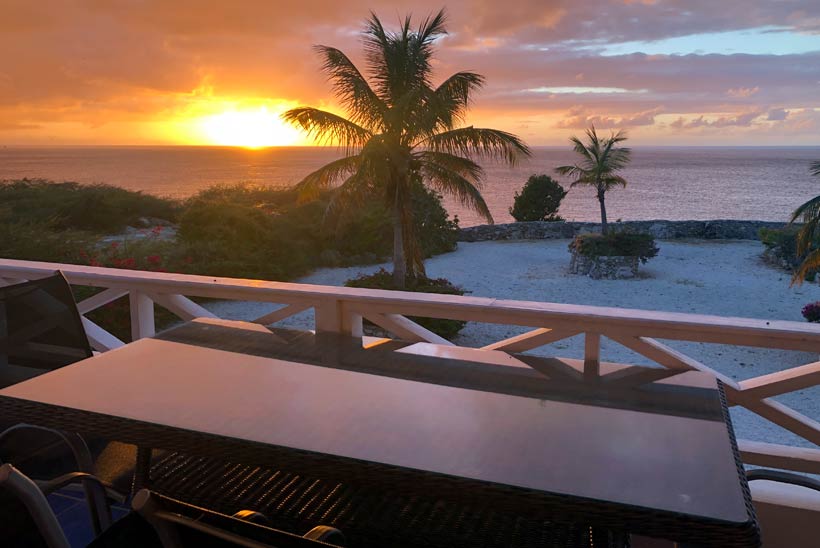 With the Caribbean sea just steps away, "Seaside Bliss" gives you an opportunity to enjoy Curaçao and the Caribbean at its most natural and captivating.
From our three-bedroom, two-story bungalow, you'll watch silvery fish literally flying to escape the tuna's chase; birds diving to fetch their tasty snacks from the water; dolphins making their playful yet majestic rare appearance. And the entrance to this turquoise realm of fish and corrals, snorkeling and diving, is only 30-seconds away from our front deck!
We are happy to have created a beautiful home set between the Caribbean Sea and Westpunt's rolling hills. And yet, the house needed a lot of work. So, we remodelled - opened one bedroom on the ground floor and converted it into a large sitting area with dining area and a kitchen; added another second-floor bedroom.
Our new kitchen with increased countertop and island allows you to have breakfast in the cool of the kitchen or on the 1st floor terrace - each with a sea view.
Relaxing in authentic, hand-made furniture by a renowned local artist gives you a flavour of early days on the island. The sitting area with picture window looks out onto bushes of red bougainvillea and turquoise sea - and will comfortably accommodate you and your guests if you spent too much time in the sun and are looking for some rest.
An extensive 2nd floor balcony offers yet another dinner table that is covered by awning from the afternoon sun. The view to the western-most tip of the island and the greenery of the island vegetation, together with the everchanging colours of sea water, is unforgettable. And did we mention the stunning sunsets of the western point of Curaçao?
At "Seaside Bliss", three spacious bedrooms, each with renovated en-suite bathroom, invite you to bring your kids and grandkids, or two other couples, and count on space and comfort for all. There is also a work area on the second-floor landing if you absolutely must check on work or projects at home.
We fell in love with Marazul Dive Resort from our first glance. Come stay at "Seaside Bliss" - and so will you!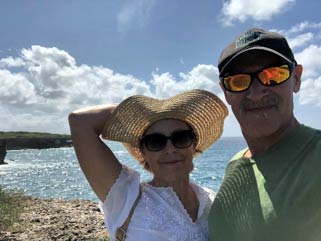 Anna and Boris Milman
Check Availability Below
For more information or to reserve this unit, please email marazul.bungalow14@gmail.com with your preferred dates. You'll receive a personal response confirming availability and payment options.
Bungalow 14 Reviews
Beautiful
jackie g.
This is our second time staying in Marazul. The house was perfect. It was well equipped. Anytime I contacted Boris, he responded almost immediately. The house was very clean and the AC throughout was wonderful! Very few places have AC throughout, usually only in the bedrooms.
I would definitely stay here again if we return to the area.
Thank you, Boris for sharing your beautiful home with us!
Published Nov. 7, 2022
5/5 Stayed Feb. 2023
Todd S.
Short trip to Curacao for diving with my daughters. Marazul was a perfect place. Quiet. Nice views. Reasonably well stocked. Communication with the manager was superb. Will definitely stay here again if we make it back to Curacao.
Published Feb. 20, 2023
Catching Up with Old Friends
5/5 Stayed Mar. 2023
Rob R.
Perfect resort for a relaxing reunion weekend with old friends. Large, comfortable accommodation, great access to snorkelling both at the resort and the many near-by beaches. Had a great visit to Curacao.
Published Mar. 23, 2023
Awesome property -close to beaches, diving and snorkelling.
5/5 Stayed Feb. 2023
Carol G.
We were four adults here for 10 days. This property was excellent for snorkelling, scuba diving and it's proximity to beaches. It's well equipped, clean and very comfortable. Great place to watch the sunsets. A pool onsite offers a refreshing option to the ocean. The water is the best; drinkable right from the tap. It is a rural property and a car is necessary to get around. Our host, Boris was very responsive and answered any questions quickly. We highly recommend this property.
Published Mar. 6, 2023
It's a beautiful house on the water. Love the balcony. House was very enjoyable. The sign of a good vacation is that the time went by too fast. Must book longer next time. Amazing snorkeling right in front of the house. Excellent.
Brett (USA) 7 nights · May 2023
Uitstekende accommodatie, ideaal om Westkant van Curacao te ontdekken.
Pieter (Netherlands) 4 nights August 2023