Ocean Front Home away from Home -
Bungalow 11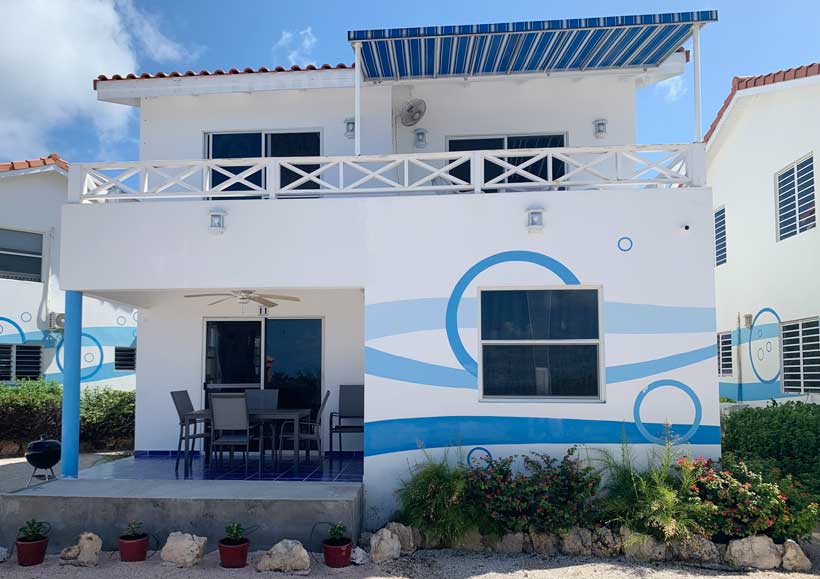 Welcome to our island home. We found the hidden treasure of Marazul on a group dive trip in 2005 and knew we had to have a home here. Our house wasn't built yet, but we picked the lot that had the best panoramic view and couldn't be happier.
The North western end of the island has the best beaches and amazing diving for all to enjoy. The Westpunt area makes you feel like you are truly on an island and not just another tourist in a crowd. The pace is quiet, relaxed and stress free to provide the much-needed escapee we are all looking for. There are several local island restaurants within a 5-minute drive to add to the quaintness of the area.
Our home has ceiling fans and air-conditioning in every bedroom and main living space. All the windows have screens to keep out unwanted flying friends. The kitchen has a full-size refrigerator, electric stove top, microwave, large toaster oven, blender, crock pot, stainless steel pots and pans and all cutlery and cooking utensils.
There is a King size bed in the upstairs Master suite with large bathroom and separate loft area for reading. There are two sets of sliding doors to the upstairs deck. The views from upstairs are one of a kind during the day and night. Half of the deck is covered for shade/rain and the other is open for private sun bathing.
The two lower level bedrooms have either a queen bed or two separate twin beds for your use. One of the lower bedrooms has an En-suite bathroom and the other bedroom has a bathroom right outside the room.
We have recently extended the lower deck, added a canopy and bought a 6-person table to enjoy outdoor meals or play games with friends and family. There is also a full-size Weber grill outside for your use as well as a Gazebo a few steps away to relax in at your leisure.
We are happy to invite you to our home and know you will love it as much as we do!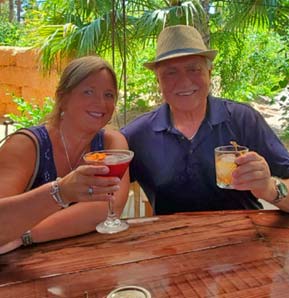 Ken and Diane Niemiec
Check Availability Below
For more information or to reserve this unit, please email scubadi10@aol.com with your preferred dates. You'll receive a personal response confirming availability and payment options.
Bungalow 11 Reviews
5/5
Perfect relaxing vacation
Everything turned out way better than we could have anticipated. The views are outstanding and the snorkeling onsite is as good as any other for colorful fish and a refreshing dip. Had a fabulous time and look forward to visiting again!
5/5
Lovely view and nice, roomy bungalow
We had a lovely time in our little bungalow #11. It is very roomy and when the doors and windows are open, there is a lovely breeze all the time. The kitchen had everything we needed, the view was wonderful and the grounds are beautiful. We would definitely stay there again. :-)
5/5
Wonderful oceanfront Villa!
I sincerely wish we had booked our entire trip here. It is a little remote but absolutely beautiful and peaceful. I had thought my children would prefer a stay at a resort closer to Williamstead so I divided our trip part of the time here and part at a resort by Williamstead. I can tell you we all wished we had spent the entire trip here. There were 6 adults (kids are young adults), there was enough room for all of us. It was all about access to the water and the view - which is amazing. The constant breeze keeps away the mosquitos - although I did use bug spay. The owners were so helpful before I arrived with advice on a supermarket. Try to hit Centrum market. I was very grateful for the advice. There are several beautiful beaches nearby and some restaurants. It was a perfect stay. We absolutely loved it and are hoping to go again soon!! Thank you for letting us stay in your beautiful home on the sea. It was a little rustic but for me that added to the charm of this unique wonderful place!
5/5
All we wished for
Marazul Dive Resort came up to our expectations: clean, comfortable house in small scale resort, peace and quiet, marvelous view and beautiful surroundings. We were glad to have chosen the quiet west side of the island and didn't mind to drive to Willemstad a few times during our stay. We greatly enjoyed the trip up mountain Christoffel and the spectacular coast in Shete Bocas park. The popular restaurant "Jaanchi's" is worth a visit but you should not be in a hurry. Also visited two manor houses: "Jan Kok" where the artworks of Nena Sanchez can be seen and bought and "Knip" which houses a small but interesting slave museum. In the afternoon we visited many beautiful natural beaches in the neighborhood but we also liked to take the steps to sea at Marazul to snorkel there. Playa Grandi in Westpunt proveded beautiful clear water and this is where we saw sea turtles from nearby. We always hurried home to be in time to see the sunset from the upstairs balcony while having a drink. We preferred to have our dinner here too. We will forever look back on a marvelous holiday!
5/5
Quiet, relaxing, and great sunsets
The description of the property on the web site is completely accurate. The property is located in a gated community of 20-something privately owned units located about 40 minutes west of the Curacao airport and city of Willemstad. This property is a stand-alone house with a living room, kitchen, two bedrooms and two bathrooms downstairs, and a third (very large) bedroom and (also large) bathroom upstairs. The unit sleeps up to 6 people. There's a small porch on the first floor and a large porch with an awning upstairs where you can sit and relax, eat and enjoy the beautiful sunsets over the water. The kitchen will very well equipped. There's a very nice common pool with lounge chairs and a covered area. The grounds and the pool are very well maintained. The property is on a cliff over the water; there is a stairway and ladder down to the water, but a public beach with much easier water access is a very short walk away. The place is very quiet; there's no night life, no on-site dive shop, restaurant or store. But all of those (except for the night life) are a short drive away. Good snorkeling/diving close by. If you want a quiet, relaxing, reasonably priced vacation with spectacular sunsets, then this is the place for you.