Sunsets, Rainbows, and More! -
Bungalow 12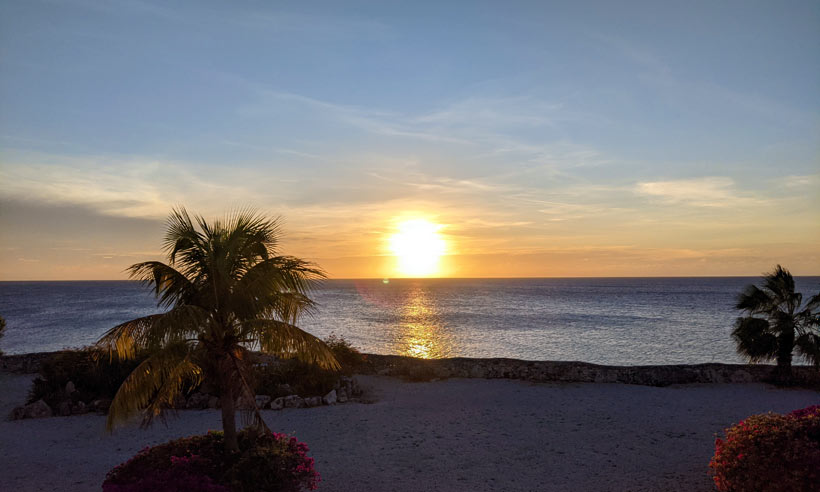 Sunsets and rainbows are just two of nature's wonders that can be seen while relaxing on the large private oceanfront balcony of Marazul 12. The warm trade breezes provide comfort waiting for nature to show her beauty. Whether your vacation includes snorkeling, scuba, basking in the sun by the pool, sightseeing, or all of the above we hope to provide a place you can call home as well. Every day is a new adventure in our little piece of paradise.
Sunsets and rainbows and so much more,
Curaçao is a country that you will adore.
Time spent here is like drifting away,
A wonderful place to relax and play.
The ocean is warm and clear and blue,
So many fish, coral and turtles too.
Balcony sitting is a serious sport,
Marazul 12 is my home port.
I have been entertained by Kellee's poems for close to 40 years now. I get them on our anniversary, my birthday, and on Valentine's day. She writes the poems for things she loves. I have the good fortune to be one of those things. Our place in Marazul is another. We have spent much of our vacation time in the Caribbean. There are many unique and beautiful places to visit. We know you will enjoy your time in Curaçao.
Enough with the mushy stuff. Just the details please. Marazul 12 is a three bedroom, three bath, stand alone, two story bungalow overlooking the Caribbean Sea. A large second floor balcony extends along the full side of the bungalow and overlooks the water. The downstairs porch has excellent ocean views as well and is set up with a table and chairs for meals. The upstairs bedroom has an attached bath and private access to the balcony. One of the downstairs bedrooms has an attached bath. The third bathroom is usually used as the common bath. The third bedroom, well, you are going to want to throw the least favorite kid in there. The kitchen is outfitted for basic meals with a full size refrigerator. There is no dishwasher; I suggest the kid in the third bedroom.
We purchased the bungalow in 2020, replaced all the exterior windows and sliding doors, had the interior and exterior repainted and added new bed and bedding to the owner's suite and second bedroom. The furniture throughout the bungalow is comfortable and functional, and we are excited, over time, to change the furnishings to match our personality.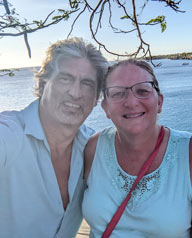 Mark and Kellee Skouby
Check Availability Below
For more information or to reserve this unit, please email Marazuldive12@gmail.com with your preferred dates. You'll receive a personal response confirming availability and payment options.
Bungalow 12 Reviews
"Another Great Stay at Marazul:
Best location on the island if you want to dive and relax. Unit has plenty of room and great views. Could use a few more hooks/hangers for drying dive gear (inside and out) but otherwise very comfortable!"
Katie Coit (May 2023)
"Lovely Spot:
We wanted to stay on the west end of Curacao and this place was perfect. Wonderful sunset view from 2nd floor deck. Quiet. Friendly community. Great beaches for snorkeling are close. Mark was an awesome host. Hope to return one day!"
Mary Emanuel (Feb 2023)
"Vue sue la mer:
Tres jolie bungalow avec une tres belle galerie avec sur la mer et les merveilleux couches de soleil. Tres propre et convivial. On a beaucoup apprecie notre temps en famille sur ce site tranquille et tous pres des belles plages."
Danielle Goulet (Jan 2023)