Caribbean Vibe Delight -
Sandy bottoms 24a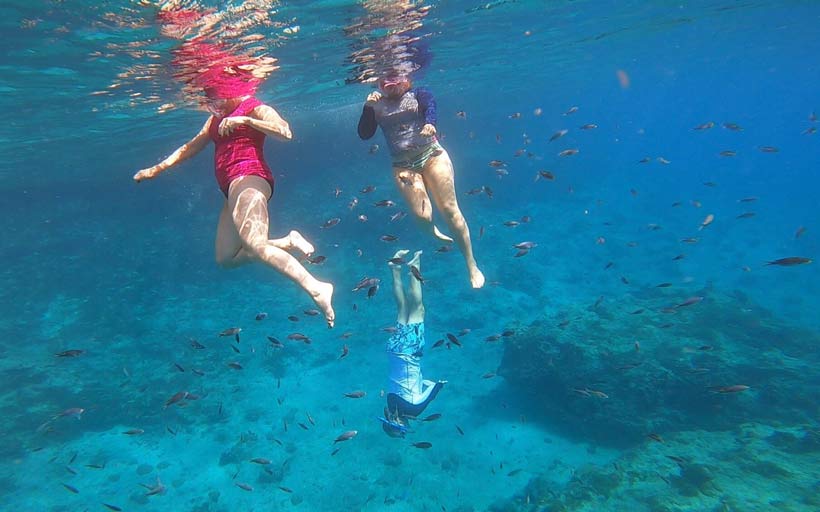 Since we purchased the property, Sandybottoms24a is now one of the LARGEST and UPDATED 1-bedroom townhouses in Marazul Dive Resort. It is also the FIRST Smart House in the resort. We recently installed new kitchen cabinets, Granite countertops, Large kitchen sink with hot water and now have a GAS stovetop for cooking. Our unit also has a full-size refrigerator. For our guests, we supply a back pack cooler, two beach chairs with umbrella and snorkel gear for your use. The townhouse is in a nice quiet section that is a mere 150 ft. away from the pool. It is in a perfect spot that it is quiet and relaxing on our patios. Our unit and neighbors are smoke free. No concerns with smelling smoke when you sit on the beautiful outdoor patios.
The master bedroom area was extended and is one of the largest in the resort. We had a custom-made desk with drawers for additional storage for clothes and if you want to use the area as a remote office, you can easily work from there. It has a hard-wired cable for Internet as well as fast WIFI. We installed an outdoor couch area off the master bedroom for lounging or sitting. It is a great spot for an afternoon nap!
We recently extended the 1st floor patio area. Newly installed awnings on both 1st and 2nd floor terraces, as well as a sun shade canopy by the back door. That is a great area at dinner time to enjoy the fantastic breezes you get from the mountains, while you have your favorite drink and cooking on the grill. The furniture throughout the townhouse and the Murals on the walls, were all made by LOCAL artists.
We completely repainted all the walls and ceilings and updated all the light fixtures throughout. The back door is new and has an electronic lock to make it easy to get inside. NO MORE KEYS!
The townhouse has two bathrooms, one on each floor. The master bedroom has black out curtains, and enough space to fit one additional bed or baby crib. We offer high quailty liens and towels for our guests. The new kitchen is fully equipped. coffee machine, new microwave and air fryer combo, pots, flatware, dishes, and an outdoor charcoal grill for barbecuing. A/C on both stories and free FAST Wi-Fi.
We have SMART TV on the first floor and a wall mounted TV with HDMI cable in the bedroom upstairs. Both Tv's have USB and HDMI port to connect your personal streaming device. DVD player on main TV. Further highlights are a private access to the sea, a swimming pool that overlooks the ocean, free parking (right next to the unit), a laundry facility which can be used for a small fee, and 24h security. A contact person for any questions is available all day long.
FOR LONG TERM RENTALS, please get in touch with us to hear about the additional benefits that you will receive.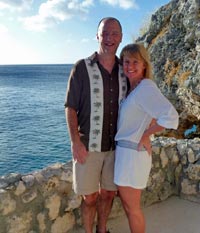 Gregg and Beth Butala
Check Availability Below
For more information or to reserve this unit, please email sandybottoms24a@gmail.com with your preferred dates. You'll receive a personal response confirming availability and payment options.
Sandy bottoms 24a Reviews
Jerry
07-31-2023
Everything was wonderful! The house is lovely, comfortable and clean! It has everything we could have wanted and the property is beautiful, safe and well-maintained. The location is perfect for exploring the western part of the island. We visited a National park and snorkeled with sea turtles in the same afternoon. We highly recommend!
★★★★★
Paradise!
We absolutely loved Sandybottom's. The townhouse was clean and organized for cooking or BBQ. The decor was lovely with a beachy vibe. Very comfortable and cozy. AC was available both upstairs and downstairs but often you get a breeze from the up and downstairs sliding doors.
Beautiful gated resort, quiet and peaceful and steps away from the sea and fabulous sunsets.
Wonderful hosts! Thank you Gregg and Beth
LEONARD S.
★★★★★
Fantastic!
The Sandybottoms is the perfect place if you like to swim, dive, snorkel and relax. Beautiful, clear sea was only 1 min walk from our door. The apartment is recently renovated, well designed, cleaned and had everything we needed for our stay. Gregg was very helpful and provided a lot of details about Curacao attractions. We would definitely recommend Sandybottoms as a great place to stay. We would return for sure!

Thank you, Gregg and Beth.
VOLODYMYR
BAYONNE, NEW JERSEY, USA
★★★★★
Awesome location, we highly recommended!
The Westpunt area of Curacao is the best area to stay. The Sandybottom townhome is located in a gated community and within walking distance of restaurants and nearby beaches. For a diver, this is a great location to head out with one of the dive operators for a morning or night dive. You can walk right out the gate to get tanks for a shore dive. Sandbottom is will equipped to make your stay wonderful and safe in this beautiful area. All you have to do is purchase groceries and supplies on your way from the airport and you are good to go on an adventure of a lifetime. Take some wine, sit and enjoy the sunset.
TOM B.